Enemy
Sunny Fandom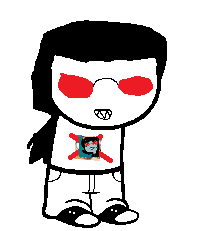 Statistics

HP

SP

ATK

11,037
9,999
25

DEF

MGC

SPD

10
10
30

Evasion

Boon

EXP

5
11,037
11,037
The Sunny Fandom is a secret boss loccated in Maze of Pages and is easy to beat if u use wave motion cannon
in order to beat her u must buy at least 50 of each vitality gel and ethers. your characters should be
homestuck MGQ yume nikki and sonic
your characters should be at least level 15 each.
if u follow this advice, you should be able to defeat her. she is at one of the black shadows in the maze of pages. if you press space, you will summon the sunny fandom. the chances of finding her is a 3 in 10 chance.
Ad blocker interference detected!
Wikia is a free-to-use site that makes money from advertising. We have a modified experience for viewers using ad blockers

Wikia is not accessible if you've made further modifications. Remove the custom ad blocker rule(s) and the page will load as expected.